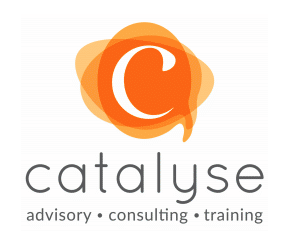 TRAINING with Catalyse, Singapore
Breathing exercises and drama games online?
Roslina Chai and I have designed and delivered many programmes together over the years to a whole host of clients. With the lockdown in place, we wanted to see how we could adapt some of our techniques to the online setting. We therefore set up a trial programme with Catalyse that would lead a select group of female participants through learning and exercises to increase their confidence to 'Step Out, Speak Up'.
In designing the 4 session programme, Roslina and I needed to figure out how to teach posture and better breathing technique through a screen. Despite working in two-dimensions, we managed to get everyone to move away from their chairs and use the space around them, allowing themselves to be led through various warm-up and relaxation exercises.
However, the biggest challenge came for us in deciding how to adapt our favourite drama exercises to the online medium. We were of course not in the same room together so there could be no physical contact and no way of moving around and about one another. Everything had to be screen based. Yet, we soon found that using the Gallery View on Zoom allowed us to play games such as 'Orchestra' or the 'One Word Story' with much laughter and enthusiasm. After all, we could still see and hear one another. Then, we looked at what could happen if we covered our cameras to hide ourselves from the others. As well as providing a little fun, we used this simple technique to adapt the Boxing Ring exercise to the small screen.
The Boxing Ring exercise is a form of role-play that focuses on a single conflict involving a small number of people. Those who are acting in the scene have 3 rounds in which to explore the possibilities, each lasting approximately 1 minute. Between each round, each of those acting returns to a pair of supporters, who give them advice on what to focus on in the next round. In the old days, we would set up the scene in the centre of the room. The support groups would be sitting on the edge, ready to welcome their actors back for advice, once they had watched the previous round.
For the online setting, we used 'breakout rooms' for each of the support groups. And when they returned to the main room for the next round, all the participants covered their cameras to ensure that only those who were acting appeared on screen. And so it was that a fictional company meeting took place, where one participant had to avoid being overridden by their overbearing colleague as their boss asked for new ideas to survive the pandemic.
Both Roslina and I learnt a lot through this experience. This trial programme provided a further foundation for me in understanding how to facilitate training online that would be even more interactive and effective.
Book The Journey Man!
Put Johnny Gillett to good use and book The Journey Man, The Storyweb or Story Practice for your venue.
Why not make contact for a consultation to discuss your needs today?